Web Design
KPH is run by Chris Marshall, an IT professional with over a decade of experience. I build quality websites using optimised code to give each site a solid SEO foundation. I use a variety of platforms to do this, including industry standard HTML5 page coding, or content management systems like Wordpress and Opencart. My approach is to get to know clients well and understand their business in order to design and build a keyword rich, search friendly website that performs well and plays nicely with mobile devices.
I also encourage all clients to establish a solid backlink profile, and choose the right social platforms to feed into the website, and drive traffic to it. A website by itself is of limited value without establishing and maintaining social media pages and quality referral pages.
With 75% of Irish SME business mobile users browsing the internet, it's vital that your website looks great on every screen size. A Responsive Website is one that is designed to detect the screen size, and respond by changing layout to best suit the viewing device. The right first impression is important to build trust and keep visitors browsing your website, and not your competitors. Responsive design is also known as "mobile ready" website design.
Keeping your website up to date with fresh content, including text and images, can help with search engine ranking. KPH Media partner with small businesses all over Kildare and Dublin for SEO services and site upgrades. We believe in building strong business relationships, and a quality service. Contact Chris to arrange your SEO Website Audit, and find out how to attract more qualified traffic to your website today.
Your domain name is your address on the web, and has become another important factor for SEO in recent years. We arrange domain purchase and hosting in Ireland, and register your domain as a .ie where required. We can also transfer existing .com or .net websites to Irish servers. A .ie domain clearly shows your customers that the business is operating in Ireland. It is both reassuring to clients and advantageous for SEO to use the format yourdomain.ie.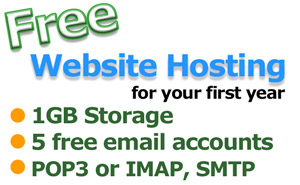 FREE hosting for 12 months on all website designs ordered before June 31 2022.
Up to 10 FREE domain email accounts included
Minimum 1 Gigabytes of storage guaranteed
SSL encryption technology to keep your site secure
We take care of everything, we will advise on domain availability and costs and walk you through the registration process. Order a new website before June 31 and recieve 1 years web hosting FREE, with prices from €49.95 ex VAT for renewal.
We only use Irish hosting providers to ensure prompt technical support where needed. All packages come with a minimum of 3GB diskspace, 5 POP3 or IMAP mailboxes, mySQL Database, webmail and anti spam software.
When you order any domain, and host with us, we will create all required business email addresses for you, and assist with set up on your mobile and desktop devices. POP3 or IMAP mailboxes are free with each hosting package.